Sex Love Doll Male Masturbator, Sinloli Realistic Size Male Sex Toy, APP Intelligent Remote with 10 Thrusting & Vibrating Modes
App-Controlled Pleasure - Easy to control the automatic thrusting sex doll by Sinloli/Hismith App, share your control link to others.
1:1Realistic Sex Doll - Indulge in an incredibly lifelike experience with our Realistic 1:1 Human Body Replica Sex Toy.
Sensation of Human Touch - Made of premium TPR, softness and ductility, lifelike skin texture.
10 Modes of Thrusting & Vibrating Delight - Immerse yourself in a world of exhilarating sensations with this versatile masturbator.
Size - the sex doll size is 12.2 * 15.4 * 6.3 inches, 27 pounds, charging the toy for 3 hours allows you up to 90 minutes of playtime.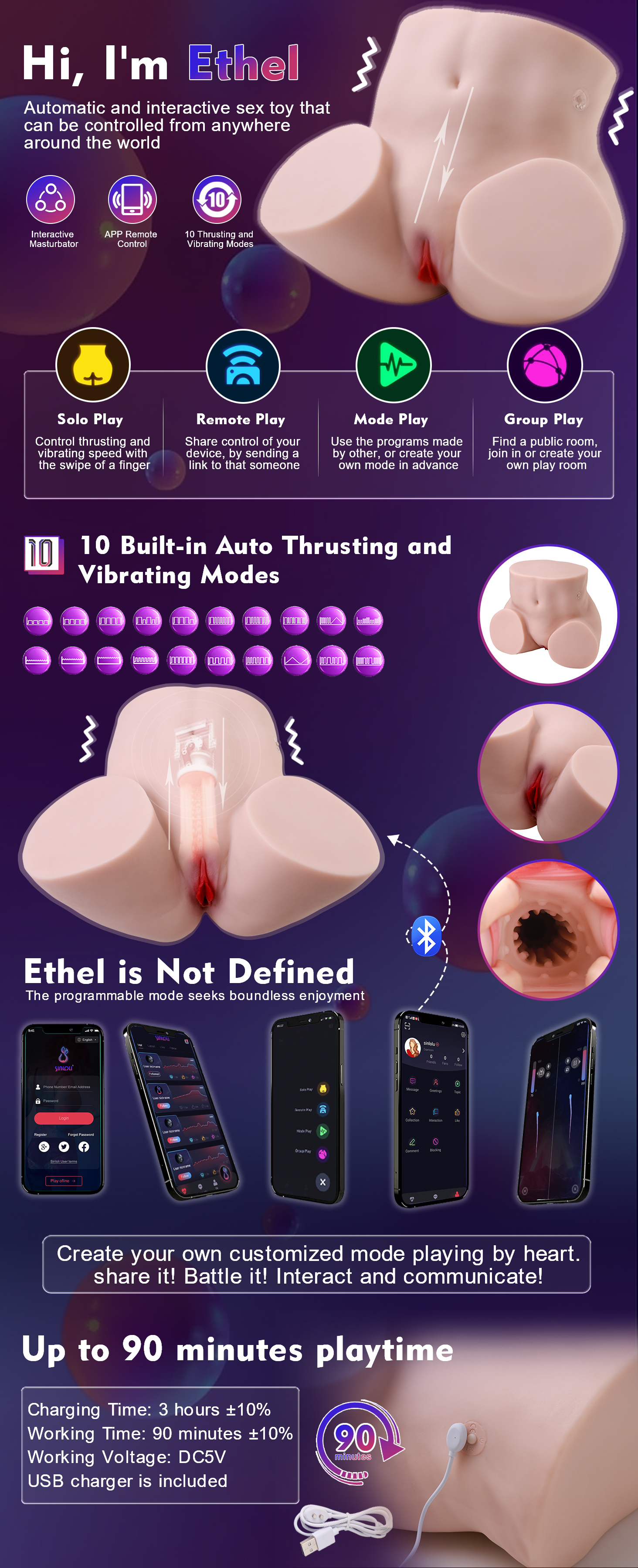 Use and Clean - Tips and Attention
1. Please use only water-based lubricants or condoms. Oils or lotions should not be used as they can destroy the material of your Ethel.
2. Ethel sex doll can be cleaned thoroughly under running water. First use some toy cleaner or mild soap and then rinse thoroughly with water. You could put the toy in water to clean, without fear of water damage, as it is certified IPX7 waterproof Certification.
3. When you have finished cleaning, please wipe them with a clean, lint-free and dry cloth to ensure that no moisture remains, apply some baby powder to Sherry's skin and store them in a cool, well-ventilated and dry place.
4. For more detailed steps and further questions, please read the manual carefully or contact Sinloli customer support.
Device Specifications
Material: TPR
Features: Thrusting and Vibrating, App and hardware remote control
Channel: Single tunnel
Working Time: 90 mins±10%
Charging Time: 180 mins ±10%, USB charger is included
Working Voltage: DC5V
Ethel Battery Model: LDX 203050
Remote Battery Model: 2 AAA batteries (Not included in the package)
Discreet packaging: There is no mention of the contents on the box. 100% Discreet. If there is anything else we can do for you - feel free to drop us a line.
Important Maintenance Tips
1. To avoid the risk of transmitting diseases and infections, please do not share this product with others.
2. For hygienic reasons, it is better to use a condom and a water-based lubricant when you play with your toy.
3. Clean Ethel as soon as possible after following the cleaning tips in the instructions.
4. Dark fabrics or bags can unintentionally colour TPE bodies and leave stains. Please store separately.
5. TPE is sensitive to heat, so it is better to protect it from heat. 6. Don't scratch the doll with sharp items.
7. Store in a dry and cool place, away from heat sources and out of the reach of children. Before storage, it should be fully charged to protect the battery.
8. If at any time you experience physical discomfort or an abnormal sensation, please discontinue use immediately and consult a physician.