Eropair Remote Dildo Vibrator And Male Masturbation Cup Set
Eropair Masturbation Cup and Eropair 2 in 1 Dildo: A Dynamic Duo for Pleasure Exploration!
With the Eropair Masturbation Cup's dual modes and 10 different ways to play, coupled with the Eropair 2 in 1 Dildo's trusting and vibrating dual mode multi-gear, this combination offers an exciting range of sensations to suit your desires.
Crafted with high-quality materials, the Eropair Masturbation Cup features a plastic shell and TPE inner rubber for a comfortable and stimulating experience, while the Eropair 2 in 1 Dildo is made from ABS and silicone, providing a skin-friendly and waterproof design.
The Eropair Masturbation Cup operates silently below 40 dB, ensuring discreet pleasure even in intimate settings, while the Eropair 2 in 1 Dildo comes with a remote control for convenient operation, allowing you to easily switch between modes and intensities.
The Eropair Masturbation Cup is a true game-changer, offering dual modes with 10 different ways to play. Explore a variety of stimulating sensations and intensities, tailored to suit your desires. Its expertly crafted design features a plastic shell that ensures durability, while the inner rubber made from TPE (thermoplastic elastomer) provides a soft and lifelike feel against your skin. You'll be captivated by the seamless integration of technology and pleasure.
The Eropair 2 in 1 Dildo is a master of versatility, with dual modes that combine thrusting and vibrating capabilities. Experience the ultimate pleasure as you explore its multi-gear options, providing a range of sensations that cater to your every whim. Crafted from ABS and silicone, this dildo is not only skin-friendly but also 100% waterproof, allowing you to explore in the shower or bath for a truly immersive experience.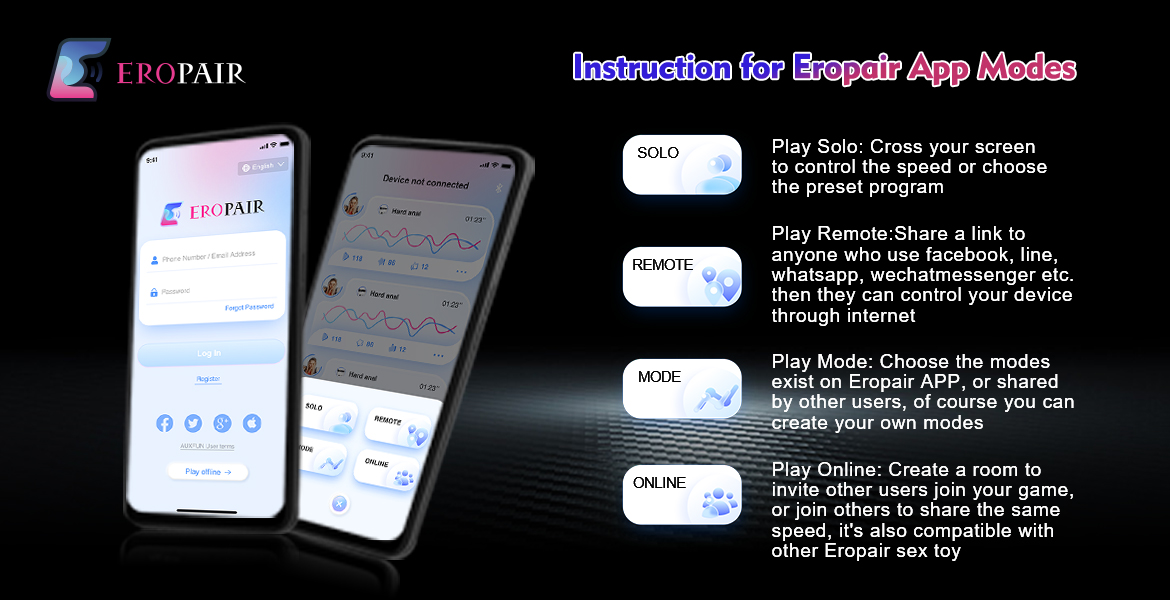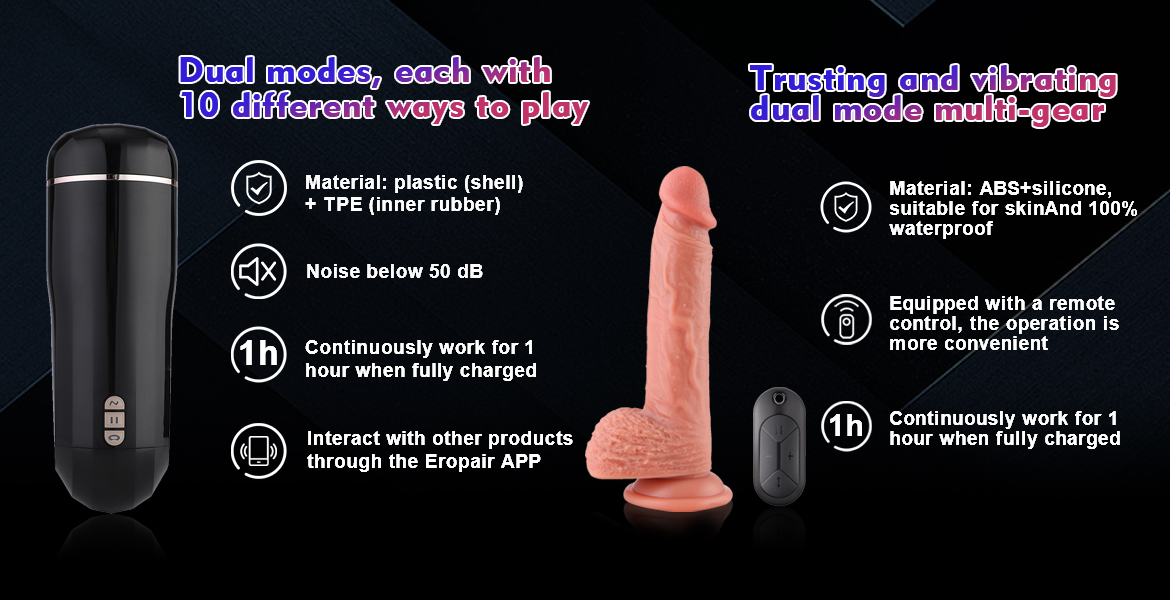 To enhance convenience and control, the Eropair 2 in 1 Dildo comes with a remote control. Adjust settings, switch between modes, and experiment with different intensities effortlessly, putting you firmly in charge of your pleasure journey. The remote control ensures ease of use and allows for seamless transitions between pleasure modes, making every moment blissfully satisfying.
But the excitement doesn't stop there. With the newly introduced Eropair APP, both the Masturbation Cup and 2 in 1 Dildo take pleasure to a whole new level. Interact with other compatible products, synchronize functionalities, and explore a realm of customizable experiences that will leave you breathless. The app offers an array of exciting interactive gameplay options, enabling you to tailor your pleasure sessions to suit your desires and preferences. Prepare to immerse yourself in an entirely new world of pleasure and connection.
Product Detail:
Eropair Masturbation Cup
1. Length: 9.6 in (24.4cm)
2. inner rubber length: 6.1 in (15.5cm)
3. Maximum diameter: 3.35 in (8.5cm)
4. Weight: 1.5 lb (680g)
Eropair Trusting, vibrating 2 in 1 Dildo
1. Overall length: 8.3 in (21cm)
2. Maximum insertable diameter: 1.4 in (3.5 cm)
3. Insertable length: 6.5 in (16.5 cm)
4. Weight: 0.9 lb (420g)