Hismith Table Top 2.0 Pro - Premium Sex Machine With APP/Remote/Wire 3 In 1 Control
Hands Free: Take it out of the bag, connect the power adapter, attach the 6.7 inches silicone dong included in the package, control the sex machine by remote/wire/APP, start your Hismith adventure.
Steady Base: Made of non-slip material. Grip-tight support pads at the base hold the machine securely in place.
Plug And Play System: Eight-square shape makes the connector more steady, keep accessories in position on sex machine's running, say no to rotational attachments.
Toolless Stroke Adjustment: Hismith's exclusive infinity stroke settings allow you to easily adjust your sex machine's stroke depth anywhere between 1.2 and 5.9 inches. No tools required.
Patterns Creatable And Progrmableam: Program your own settings and get what exactly what you want. Also, you can share your modes programme in community, Know someone else and play together through internet.
Hismith is a comprehensive company integrating design, development and production. We focus on high-end sex machine design and production. Our goal is to help our customers pursue ultimate pleasure in private life. Our business philosophy is symbiosis and win-win with other brands.
Table Top 2.0 is made of aluminum alloy material and stainless steel, make it sturdy yet not over weight, very easy to carry around with a portable bag designed by Hismith. This lovely thrusting machine comes with KlicLok system (octagon connector). It is designed for non-spin thrusting, and more steadier than other connector systems, keep attachments in position, say no to the rotation. We offer you a wide variety of accessories. Make sure you got them with KlicLok system, keep that in mind. Now, bring your honey love machine home.
APP intelligent remote control, remote control interaction, effectively solve the worries of couples working remotely, and add more funny.
High power motor, 48/100 watt mute turbine motor, never stop when penetrating.
0-90 degree angle adjustable: it can be adjusted within a certain range at will.
Packet comes with a soft and realistic average size silicone dildo.
Easy assemble to use and disassemble to carry around or store in house.
No sensitive information on the box, avoiding unnecessary embarrassment.
SECRET PACKAGING:
In order to protect the customer's privacy, the package will not have any information about the product. Only you know what's inside.
Usually we declare the name "massager" to the customs.
So no matter what you buy, you do not have any embarrassment.
Just purchase a APP control box from Hismith to upgrading your Table Top 2.0 from wire-controlled to 3 in 1 edition (APP/remote/wire control).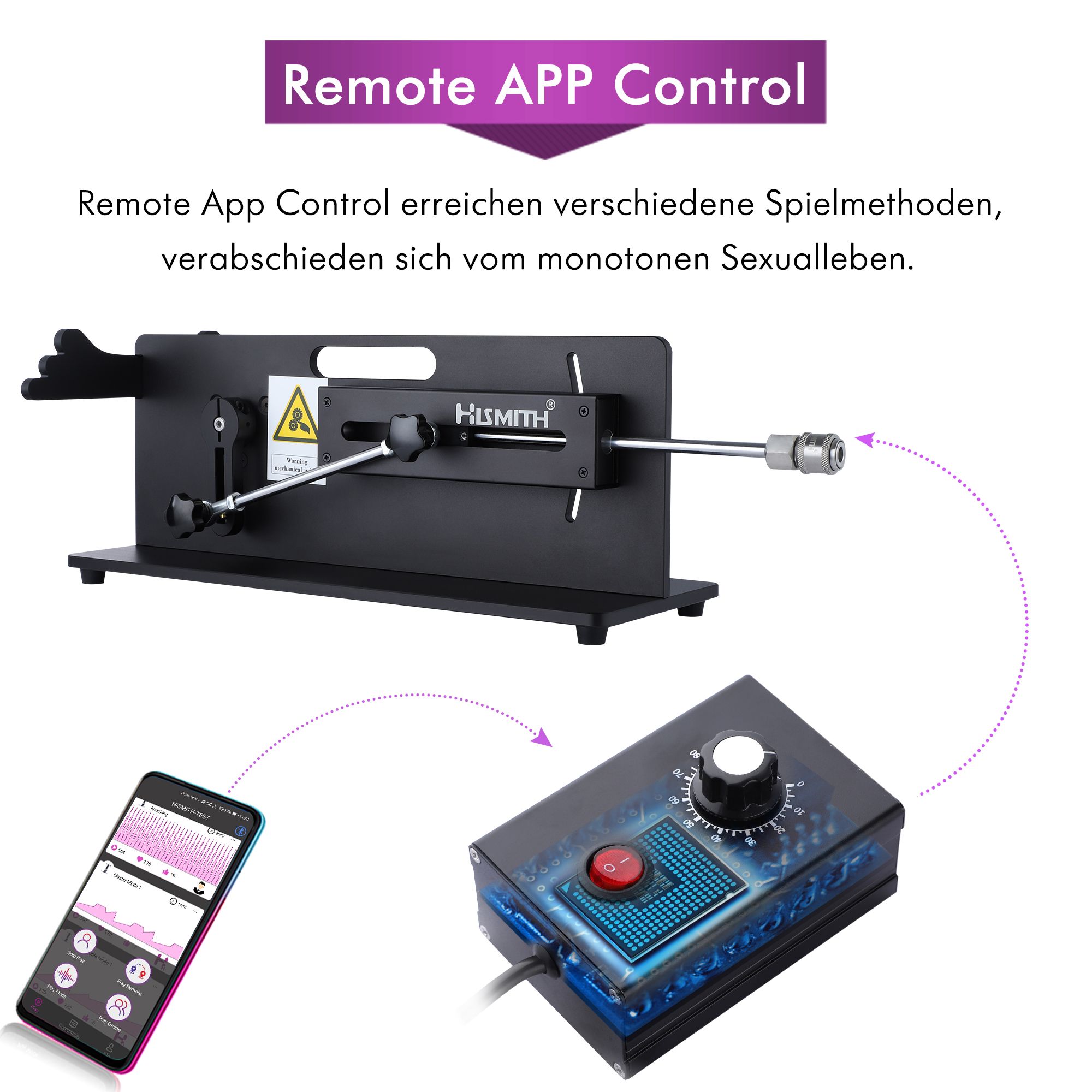 PACKAGE INCLUDING:
1 x Hismith Table Top 2.0
1 x Power supply unit (Power Adapter and Plug including)
1 x 6.7 in silicone dildo
1 x Portable bag
1 x Table Top 2.0 User Manual
1 x Smart APP Download Manual
1 x Wired controller
1 x Remote controller
WARNINGS AND PRECAUTIONS:
1.The machine and accessories are not waterproof, please do not use them in wet places. Do not touch the power plug with hands, this can cause an electric shock.
2.Don't idle the machine in high speeds to avoid accidental injury.
3.Please do not try to adjust the thrust depth when the machine is working.
4.Please confirm that you have screwed down the knob before you start the machine.
5.We suggest you use the medium depth for the first time and get used to the depth gradually.
6.Please use 1% Benzalkonium, Bromide or 75% medical alcohol to disinfect, before you use it.
7.It's necessary to use some water base lubricant, to improve your sexual experience.
Legal Disclaimer: More product information, usage, and notices, we recommend you read labels, warnings, and directions before using or consuming.
Data sheet
Stroke Length

1.2-5.1 in (3-13 cm)

Input

100V-240V 2.5A

Output

48W

Noise

30-50 dB

Connector

Kliclok Connector

Connecting rod length

7.5in (19 cm)

Rotating shaft radius

1 - 2.6 in (2.5 - 6.5 cm)

Tail width

8.5 in (21.5 cm)

Handle hole height

1 in (2.5cm)

Size

16.5 * 6.3 in (42 * 16 cm)